Some Fun in the Sun. Since I met my husband, even before we were married, whenever we went on vacation most of our vacations have been about that, and now as a family it's no different. I love the beach, and so do my daughter and hubby. So, we flock to hot, sunny, beach resorts.
So, of course, while we were away we spent a lot of time in the sun. Part of sunny getaways is taking care of your skin. Eucerin makes an Everyday Body Lotion with SPF 15 – I got a sample of this to review, and this was my best friend during our daily excursions to the town; while we of course used higher SPF on the beach, and pool side.

On my face I used Eucerin Everyday Protection Face Lotion with SPF 30, this was also sent to me for a review; we used this pool side and on the beach too. It didn't fail to protect, as no one got sunburn!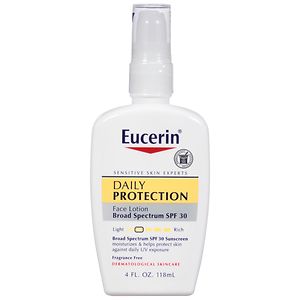 These are great products that do the job, and at $8.99 and $9.99 they are very affordable. You just can't by-pass skin care and sun protection. Even when you are on a relaxing vacation and there is nothing on your mind.
Disclaimer: I was provided with a complimentary samples of the above Eucerin products, this by no way influenced my views; the opinions in this post are my own, they are my honest observations, and indicate my personal experience with these product.