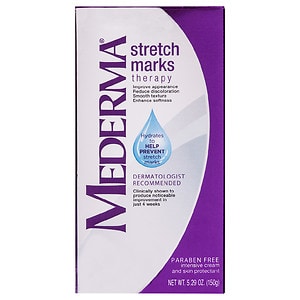 Mederma® Stretch Marks Therapy has just been named one of Parents magazine's "Mom Knows Best" 2011 Beauty Awards winners.
As a trusted resource for mothers everywhere, Parents magazine helps a woman understand that taking care of her family also means taking care of herself. The Parents magazine's "Mom Knows Best" 2011 Beauty Awards represent the best beauty products for mom, chosen by moms.
Real-mom Parents magazine readers tested a variety of stretch mark products and, along with the magazine's beauty team, selected Mederma® Stretch Marks Therapy as the overall best and most effective product for treating stretch marks.
Mederma® Stretch Marks Therapy is clinically proven to improve the appearance of stretch marks. Users typically see noticeable improvements in just four weeks and optimum results in 12 weeks. Its patented formula combines a unique blend of ingredients including the proprietary botanical extract Cepalin, hyaluronic acid, and centella asiatica leaf extract.
I tried Mederma, although I have been lucky and did not get a single stretch mark during my pregnancy, I have had stretch marks on my thighs since I was a teenager. I learned to accept the stretch marks because it seemed that there was nothing I could do about them. I had tried a number of creams, including cocoa butter which was recomended to me a while back, this made no difference. I can honestly say that after using Mederma the stretchmarks have faded somewhat. I am still using the product so I hope to see more improvement with more use. I know tons of mammas get stretch marks during pregnancy, so this is a great product if you have them.
Now for the good part, to celebrate winning this exciting award, Mederma® Stretch Marks Therapy is sponsoring a giveaway on Los Angeles Mamma Blog, so you too can see why real moms and Parents magazine selected it as a winner!
 
Please leave a comment below with your name and email address.
 
Additional entries:
 
Follow the blog by Google Friend Connect (+1)
Tweet about this giveaway (+1)
Post about the giveaway (+1)
Follow me on Twitter @LAmamma1 (+1)
 
The giveaway will be open until midnight PST October 7.